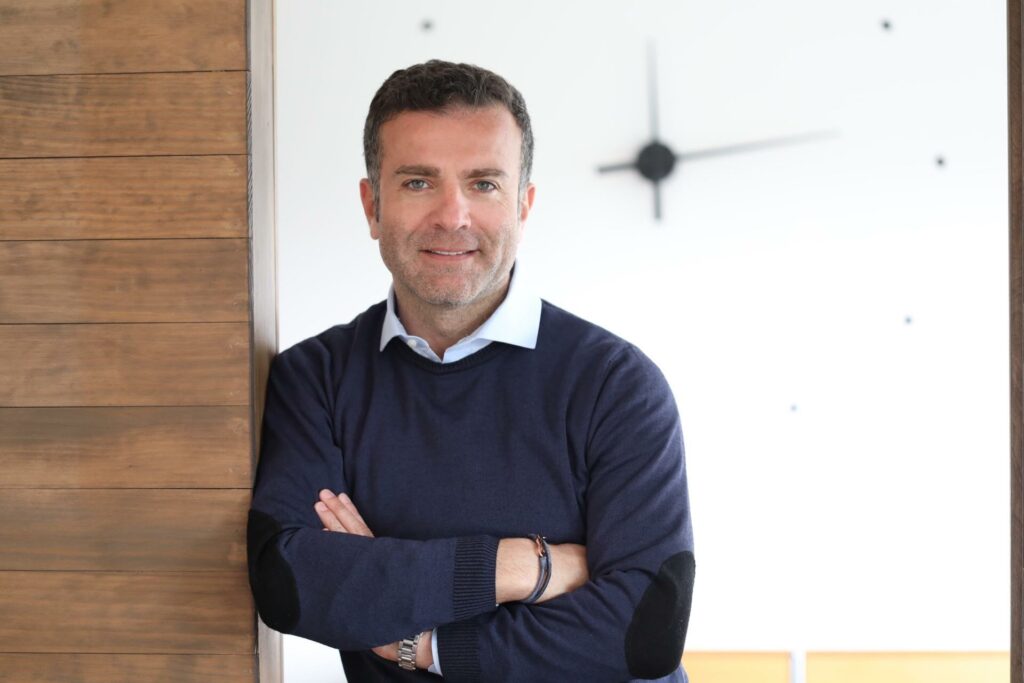 Francesco Zimone lends his extensive design and culinary expertise to world renowned L'Antica Pizzeria da Michele in Hollywood, the first U.S. location for the historic Naples-based restaurant—slated to open spring 2019. As the owner and designer, Zimone delivers a true Italian experience by treating guests to authentic dishes in an immersive dining atmosphere.
Inspired by the robust yet honest food culture which surrounded Zimone's life in Naples, his culinary philosophy strives to elevate diners' experiences and reflects the way people enjoy life in the Mediterranean, especially during the spring and summer. The menu consists of simple flavors, Neapolitan specialties with subtle twists, and organic, seasonal ingredients—imported directly from Naples and lightly manipulated, letting natural flavors shine. "Like a book or a movie that makes you think, cry, laugh, I think food needs to have its own identity," he says, "Every dish needs to have distinct flavors."
Upon entering the restaurant, Zimone delivers a quintessential Italian experience to guests. Integrating green hues from the Mediterranean, Capri, and the Amalfi Coast; iron from historic buildings in Naples; as well as dark walnut wood and leather elements influenced by his parent's home, his vision melds classic Italian with modern Californian décor. In the thoughtfully curated "il cortile," the restaurant's lush, alfresco seating, diners are offered a view into da Michele's signature stone oven, which showcases its freshly tossed pizzas.
Born and raised in Naples, Zimone enjoyed large family gatherings, which always took place at the dinner table or in the pizzerias of his hometown. After helping an architect rebuild his family's home at the young age of 17, he discovered a calling for architecture and design, and decided to pursue a bachelor's degree in international business. He continued his education with an M.B.A. in business and finance— simultaneously taking architecture and interior design courses—and briefly worked in the financial markets of Milan and London.
In 2001, he relocated to Los Angeles to work at Lionsgate and Universal Studios in both the production and financial departments. Expanding his already diverse portfolio, Zimone joined Academia Barilla in 2005 to help promote and develop Italian gastronomic culture in the U.S. and connect with his passion for cuisine. After seven years in the film industry, Zimone longed to return to his roots in design and executed several home renovation projects—including the restoration of a 1954 Edward J. Fickett historical property.
In 2018, Zimone found potential in Hollywood's old Café des Artistes restaurant and desired to bring a unique, Neapolitan concept to the area. A culmination of his life's passions, he turned the quaint courtyard—reminiscent of his childhood's Italian summers—into the first U.S. expansion of the celebrated da Michele.
Head Pizzaiolo Michele Rubini brings a lifetime of passion for Italian cuisine, genuine hospitality, and detailed technique to his role at L'Antica Pizzeria da Michele. Rubini embraces true Italian tradition with a commitment to quality, fresh ingredients, and impeccable service—fostering a comfortable, home-like atmosphere. Rubini's deft hand for simple, authentic cuisine translates into L'Antica Pizzeria's menus through delicate pizzas. While presenting guests with exquisite dishes, he purposes his food as a social vehicle—an experience of human connection. "When I think of pizza, I think of all the conversations, laughter, and emotional exchanges among people, friends, lovers, and business partners that are behind each-and-every single bite," he explains.
In 2015, Rubini moved to the United States to evolve his passion for pizza and joined pizzerias across southern California from woodfired eateries to a high-end Italian restaurant—which under his management was recognized as one of the best pizzas in Orange County. His life's work pinnacled when he met Zimone—sharing a vision of L'Antica Pizzeria's potential, Rubini seized the role as head pizzaiolo, enriching the Hollywood location of the legendary pizzeria with taste, beauty, and hospitality.
Heading the taverna at L'Antica Pizzeria da Michele, Executive Chef Antonio Giordano treats guests to authentic Neapolitan dishes brimmed with enticing, rustic flavors. As an Italian native, Giordano establishes da Michele's presence as a culinary authority on the nation's traditional cuisine in its latest opening in Hollywood, CA. Collaborating with Owner Francesco Zimone, Giordano captures the robust spirit of Naples by creating authentic, consistent dishes with the finest produce found in Los Angeles, intertwined with true Italian elements imported directly from Naples.
While the pizzeria showcases Head Pizzaiolo Michele Rubini's simple pizzas, the taverna features Giordano's pasta specialties centered on fresh vegetables and seafood with classic ingredients such as fiordilatte—a semi-soft Italian cheese similar to mozzarella—and San Marzano tomatoes. "Da Michele is not just about being a world-recognized brand, but also about delivering an authentically refined product," he explains. "The dishes are real at da Michele."
Originally from Salerno, Italy, Giordano holds a vast portfolio in some of Italy's premier dining establishments, from Rome to Verona. Initially, he considered a profession in accounting, though his mother—a skillful home chef—inspired him to pursue a culinary career. In his hometown, Giordano began as a commis, or assistant to the chef, though he desired to broaden his culinary skills. He moved to Rome to attend a cooking class at Gambero Rosso and later staged at Verona's five-star hotel Villa del Quar under tutelage of Bruno Barbieri, a Michelin-starred restauranteur. Soon after, Giordano returned to Rome to join Al Presidente as a pastry chef, then gourmet catering company Intavola in Salerno, before helming as opening chef for the prestigious culinary school, Gustolab International: Food Systems and Sustainability back in Rome. "There, my American dream became a reality," he states.
After meeting with international restauranteurs and a to visit Los Angeles, he eventually accepted an executive chef position at Terroni, the West Hollywood post of the Toronto-based Italian restaurant group. He later managed Gjusta Bakery in Venice for the renowned Gjelina Group owner Travis Lett—a fast-paced, high-volume experience he recalls as pivotal to his career. In 2017, Giordano returned to Italy to open and operate his own restaurant, Mercato Banco e Cucina, focusing on traditional recipes from the Amalfi Coast with an abundance of produce, meat, and seafood. Hearing about the prospect of L'Antica Pizzeria da Michele's U.S. opening, Giordano grasped the opportunity as executive chef to meld his passion for honest Neapolitan ingredients with a seasoned expertise, while uplifting guests with celebrated southern Italian cuisine.
Director of Operations Marino Monferrato accommodates guests with the ease and coziness of home intertwined with comforting, rustic Italian dishes. As an Italian native with a passion for hospitality, Monferrato brings a lightness to the dining environment, the kind of warm, welcoming ambiance that he hopes guests will carry throughout their day. "When the people come into the restaurant, it's no different than when a friend comes to my own home," Monferrato says. Monferrato's convivial philosophy begins with his dedicated staff members who he encourages to deliver their own unique personalities, humor, and enthusiasm to each table. Much like true Italian cooking and equally at da Michele, community and quality stay at the forefront of his operation—upholding owner Francesco Zimone's vision for delivering authentic yet simple Neapolitan specialties in an enticing dining atmosphere. "Besides a great meal, ambiance, and service, I want to give guests great memories," Monferrato explains. "Hospitality is all of the above. If we can achieve that, then we've succeeded."
Born and raised in Chivasso, a small town outside of Turin, Italy, Monferrato graduated from hotel management school with a desire to explore the world through hospitality and connections. he refined his craft under the tutelage of Michelin-starred Chef Gualtiero Marchesi—considered to be the founder of modern Italian cuisine—who taught him the grace and tenets of proper service: attention to detail, passion, and authenticity. Monferrato then honed his hospitality at fine-dining establishments in London and France, but ultimately finessed the sense of comfort and customer care when he arrived in America. After arriving in the U.S., he transformed his accumulated experiences and skills into the approach he carries with him today—providing guests with a high-end experience in a more casual, approachable setting. He went on to helm San Francisco's famed Masa with Chef Ron Siegel and CUT by Wolfgang Puck at the Palazzo Hotel in Las Vegas. Additionally, Monferrato led the opening teams at Cecconi's and Eataly in Los Angeles, a herculean task that remains one of his greatest accomplishments. When Monferrato is not taking care of customers at da Michele or serving as the on-camera maître d' on the television show, Hell's Kitchen (a gig he has proudly held for seven seasons), he's at home with his wife and two daughters, Ibizan hound Dilah, two rabbits, and two chickens that supply the household with fresh eggs. He also occasionally journeys to Lake Arrowhead to seek respite from the city.